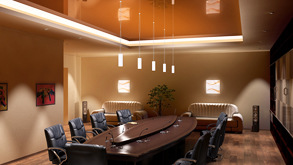 Many people are still skeptical of bringing 3D into real estate industry. But not us! 3D can be used in any area of existing marketing, including real estate development and sale.
How would you as a real estate sales manager describe a house or other real estate object that hasn't been built yet to potential buyers or investors? As a soaring, spacious, gourmet or open floor plan? Then be ready to get rejected as most people are no more satisfied with laudatory epithets and 2D drawings. 3D visualization of real estate property has become the most crucial factor when drawing potential buyers in to make the positive decision.
How it works? A detailed 3D rendering of an object quite literally transports a viewer into another space. There is no better way to get a feel of a property and its design than to see it in three dimensions.
Why 3D?
Just imagine: people have no need to rely on their imagination to view how the house will look like once it is finished, to evaluate the disposition of rooms, and understand from line drawings that something is missing or does not match their expectations. With 3D one can virtually walk through the property in the early construction stage and evaluate house planning and design to the full extent.
All realtors continue to improve the methods of presenting their products in order to attract as many clients as possible. However, people do not hurry to invest their hard earned money and one of the most favorable concepts for realtors to persuade people in buying property is the use of 3D tools. Eye-catching 3D rendered images present real estate in appealing and business-winning way, making people believe what they are looking at is real. Real estate marketing is gradually captured by the so-called augmented reality platform and this tendency continues to grow.
3D computer graphics uses a three-dimensional illustration of data, which gives the real-world feel. It captivates the attention of the audience by offering new viewing experience and produces certain emotionality on people. But before starting to create 3D presentations of real estate assets for advertising and promotion, let us consider what it is all about and explore beneficial and negative impacts of 3D visualization.
Primary Benefits
3D visualization is the future of real estate marketing
The over-all abilities of 3D technologies promise not only enthusiasm among potential buyers but their clear conversion to actual and devoted clients.
3D helps to target larger audience
3D is becoming a standard for real estate industry and nowadays the majority of potential clients are looking for real estate agencies offering 3D rendered images of real property assets.
3D helps clients to make decisions in your favor
In contrast with traditional line drawings 3D makes it easier for potential buyers to understand the elevations and floor plans.
Many people have troubles visualizing their house from a 2D drawing, thus they cannot get the feel of a place and delay a decision. The opportunity to experience the house in 3D helps potential clients to choose their dream-home from the amount of others.
3D gives people a confidence that nothing is overlooked
3D provides a unique opportunity to see the house before it is actually built and, thus to change and evolve some details during or even before the construction. This approach can save time and efforts reducing the amount of changes that could arise at the construction stage. This is one of the main reasons 3D-rendered images of real estate property are appreciated for.
3D adds life to empty spaces
When selling an empty house or an apartment, it is required to offer clients a 3D-rendered image that will show off the house in the best possible light.3D can stand in good stayer when adding virtual furniture to any empty house or apartment. This is the ideal way to help potential buyers visualize how the empty home can look once it is furnished.
3D adds value to property
Availability of 3D-rendered image of a house adds value to the real estate object for sale and allows buyers to better and faster understand the property, its concept and overall design, rather than just examining floor plan drawings in 2D or (if we talk about investments in developing) a parcel of undeveloped land. What this means is that their decision to buy will be made much quicker.
Major Disadvantages
3D modeling of real estate objects is a time- and money-consuming process. However, a team of highly skilled individuals with required experience and a great deal of technical know-hows will fulfill the job fast and to the highest standard. All what is needed is to find a trustworthy 3D modeling company.
Conclusions
The whole concept of 3D has a lot of potential in many ways and today 3D technology has become an integral part of modern life. To successfully implement it in real estate marketing realtors need to find a trustworthy 3D modeling company to bring their ideas to life.
Being a 3D modeling and animation company we understand both technical and aesthetical aspects of 3D visualization and can provide top-quality renders for your marketing, development or sales needs.
Please, have a look at our Portfolio or Contact us to discuss details.