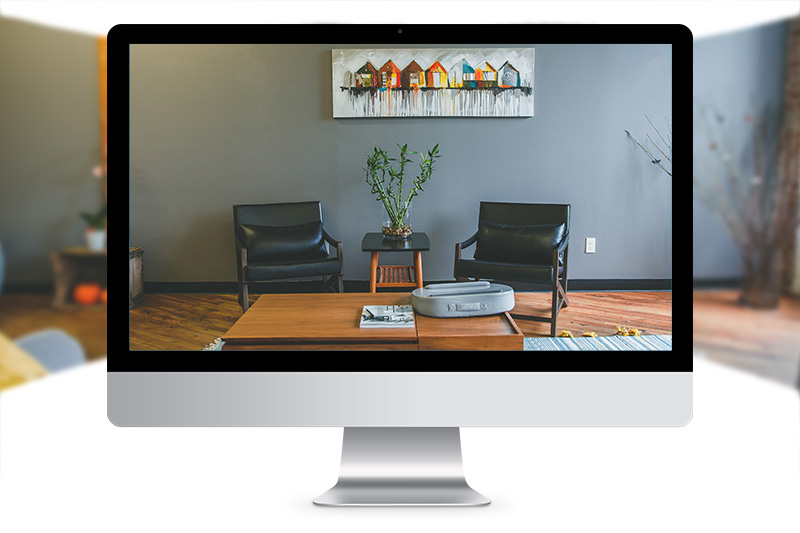 Real estate has the reputation of a highly-competitive market, with realtors going above and beyond to land a sale. In this industry, the properties on sale obviously play a large role, but choosing the right approach to foster sales can be just as important. And so, real estate agencies must adapt to survive, using new technologies and digital solutions like virtual tours.
If you want to know about the benefits and learn how to make a virtual tour for real estate properties, you have come to the right place. We have all the information you need to kick off a new digital era for your business with this one-of-a-kind approach.
61% of clients consider virtual tours the most helpful feature in searching for a property. Over half of all property owners prefer giving a virtual tour over in-person options like open house (35%).
What Is A 360 Virtual Tour?
Generally speaking, a 360 virtual tour is one created with the help of a 360-degree camera. This is a special camera type with a spherical lens that films almost everything around it simultaneously. In the context of real estate, such a tour would usually be presented in the form of a video or interactive program.
For instance, someone experiencing a tour of a warehouse on their phone might hold up their device to see a certain part of the facility and move the device right/left to get the other angles. To move along a corridor, they can just wait for the video to progress or make a gesture on their screen (if they are controlling the program).
To see an example of how it looks from the client's side, you can check out this tour of Buckingham Palace created by BBC.
Which Other Types Of Virtual Tours Are There?
Though 360 experiences have become popular recently, they are not the only way to create amazing tours. Some of the other options include:
Regular video tour
The most accessible approach to real estate presentations is simply to film a video of a property and present it to clients, so they have a basic idea of the layout and look. Sometimes, elements of architectural animation are added to show a building's structure and materials. Filming can be done with anything from a phone camera to professional gear, and even quadcopter-mounted devices.
Advantages: Easy to film; you can set a mood with added music, effects, and production values.
Disadvantages: Not immersive; size scaling can be uncertain; further review is only possible with pause or rewind.
3D Walkthrough
3D walkthroughs are immersive experiences that simulate a building or property in 3D and let the user access via a special application. In the app (it could even be a small window running on a website), clients are placed in the shoes of a visitor to the property. Usually, they don't see themselves, but see a full 3D representation of the site's interior and exterior, with several interactive options.
Advantages: Provides a more realistic experience; improved sense of scale; quick navigation.
Disadvantages: Not easy to make; some 3D models may have low detail.
Extended Reality tour
Extended reality is a collective term for immersive technologies like VR, AR, and MR. While augmented reality walkthroughs can be accessed on mobile devices, virtual and mixed reality are presented on headsets that grant full immersion. Prospective buildings and their interiors are visualized in 3D, but the user sees everything in scale, as if they are truly there. They can also use the XR application's interactive features (often accessed through special controllers) for a more hands-on experience.
Advantages: Full immersion; Great sense of scale and realism; Improved interactive options.
Disadvantages: Expensive hardware may be required.
Are people buying homes based on virtual tours?
Walkthroughs and 3D virtual tours for real estate are definitely having a positive impact on the industry and increasing sales. This trend has only intensified with the Covid pandemic, as many buyers opt for solutions that require less face-to-face contact. We have gathered some studies and headlines demonstrating this ongoing boom:
A survey by Zillow found 36% of Americans are likely to make a purchase based on a virtual experience.
Redfin reports that 63% of their customers in 2020 made an offer for a property without visiting it.
One Australian real estate agency experienced a surge of 1280 remote viewings of Queensland properties over several months of lockdown.
What Is The Process For Making A Virtual Tour For Real Estate Businesses?
If you choose to offer remote walkthroughs to your customers and investors, you will have several different paths towards achieving this goal – some difficult, some easier.
Video tour
1. Prepare the settings
2. Capture footage
3. Edit & Upload
For a high-definition video, you will need to use a professional camera, and prepare for the shoot so that the lighting is optimal and everything on the property looks tidy. If you want to add more angles to the experience, you can buy or rent a 360 camera or attach a camera to a drone (for filming from the sky, with aerial movements). Once you have the footage, it is just a matter of organizing it, adding effects and music, and uploading it online.
3D Walkthrough
1. Gather reference materials
2. Build the user interface
3. Create 3D models and invironment
4. Add interactive features
5. Review & Release
The creation of a 3D walkthrough will begin with a reference – images or video of the home that will be used to create the 3D models and make them accurate. Once you have all the references, you can start building the application that will offer this virtual experience to users. Not only will you need to create 3 models of the interior and exterior, but also features that allow moving from one point to another and potentially interact with objects and designs. XR walkthroughs will require additional expertise in software development along with proper hardware for testing.
Work with a partner
1. Find a partner
2. Provide requirements
3. Production
4. Feedback and Review
5. Final result
Unless you have previous experience in creating remote walkthroughs and can dedicate the people for this job, picking up the skills and knowledge you need for a successful product can take months. In many cases, it is much more prudent to find an experienced partner that will handle the process for you. You just share the references and specifications with them, and they deliver results within the agreed timeframes.
How Valuable Are 360 Tours In The Real Estate Market?
360-degree and virtual tours provide a wide range of benefits to realtors and customers alike. Though they are not a complete replacement for visiting and examining properties in person, they can be a valuable reference tool that makes it easier for customers to commit to a sale. Below are some key benefits:
Safer and more convenient for clients

With an infectious disease running amok, many customers don't feel safe going to open houses and interacting with dozens of real estate agents. Thus, remote walkthroughs let them get the same first impression of a place as a real visit, without having to spend the extra time driving and listening to agents chatter.

Agents spend less time on travel

Though it might require a bit more organizational effort on the agent's part, a remote walkthrough helps them save more time and money in the long run. With clients having access to these experiences, only the most probable and committed will want to see the properties in person, and agents won't have to invest their resources in customers that probably won't be satisfied with the property.

A great way to beat competitors

Providing a high-tech solution like this can give your business an edge over competitors, producing a "wow" effect with customers. Even if your competitors have better buildings up for sale, the sheer convenience and beauty of a well-designed tour can compensate for many shortcomings and present the estate in a better light than some photos on the website of a competitor.

Easy customization

Interactive tours (especially those in VR) can let users do a lot more than move around. They could be granted options such as picking up items, arranging furniture, changing interior and exterior colors, and much more. This freedom of customization will help them better imagine living or working in this place and move them one step closer towards finalizing a sale.

Creating emotional connections

When someone walks through a building or facility with the thought of potentially buying/renting it, their imagination starts working. They imagine what it would be like operating or living in this place and how everything could be organized. Immersive experiences trigger the same kind of imaginative and emotional thinking, so a bond can be formed even without visiting the place.
Which are the best AR/VR companies for real estate?
Currently, there are hundreds of real estate virtual tour companies that create AR/VR experiences. To narrow your selection to the very best, you can look at their 3D portfolio and ask about their supported platforms and formats. We also recommend paying attention to reputation, possibly checking feedback on platforms like Clutch and Goodfirms.
Real Estate Virtual Tour Services
As we have mentioned, there are hundreds of providers you can choose for your virtual experience. However, few of them will provide the level of experience and professionalism offered by 3D-Ace. Our studio has been creating 3D models and media for over 20 years and knows how to do virtual tours for real estate at the highest level of quality.
Much of our portfolio is dedicated to buildings – from architectural visualization to 3D walkthroughs and tours, and we have a large team of designers ready to bring your properties into the digital realm. You will be free to choose the level of immersion you want for the experience, and we will deliver it, even creating VR and XR apps if needed.
If you have some buildings or sites in mind that you want to digitally transform, just reach out to us. We will be happy to get the ball rolling and show how we can help.