The year 2013 is gone but beautiful interior designs will stay with us forever and we cannot go without mentioning some of the best Interior designs and renders we have seen in 2013. From education to hospitality, from office spaces to installations, we have enjoyed so many projects in 2013 and want to share our pick of the Best Interior Design Projects and Interior Renders of 2013.
Fazenda Boa Vista | Spa Isay Weinfeld São Paulo, Brazil
New hotel center Fazenda Boa Vista, built in São Paulo, Brazil, simply dazzles by its pure whiteness. Designed by Brasilia architect Isay Weinfeld the hotel has a spa center, zoo, sports center, child's club, equestrian center, two golf fields, pools and forests 242 ha in area with multiple lakes at visitors' disposal.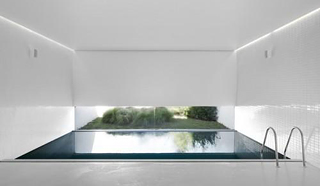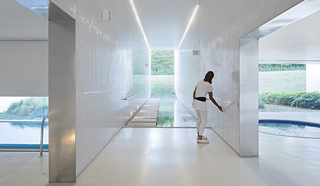 Virgin Atlantic Clubhouse Slade Architecture Newark, US
New Virgin Atlantic Clubhouse has opened at JFK International Airport in NYC and made the hold in JFK International airport not so boring. Its beautiful lounge area of more than 10,000 square has a beautiful curvy bar, curved cool seating, custom-made flame red sofa, and a large burgundy billiards table made of maple wood, which give the visitors a classic uptown Manhattan feel from the glamorous 50s. The furniture sets also stick to the uptown theme what makes the overall design simply fabulous. This award winning projects is something Slade Architecture has to be proud of, as well as many others ranging from residential to commercial, educational to cultural projects.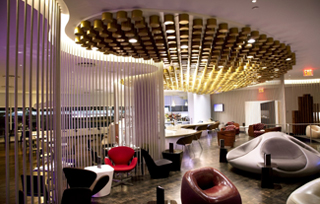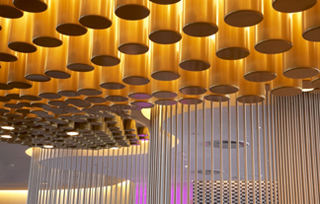 Harlow Meyer Davis Studio New York City, US
This award-winning design firm, based in New York, designed the Harlow restaurant named so for its silver-screen goddess. This glamorous design reminds of Hollywood and is located in New York Midtown. Original chandeliers connect the entry with the lounge zone.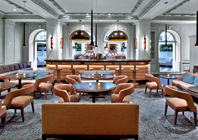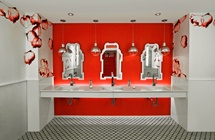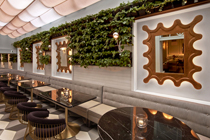 PARKROYAL WOHA Singapore
The Parkroyal Hotel, designed by WOHA, became an extension of Hong Lim Park, a new green space located near the business center of the city. What makes the building stand out from the rest is its balconies covered in tropical plants. Another outstanding design element is the contoured surfaces based on rock formations. PARKROYAL WOHA on Pickering hotel is an Award-winning project.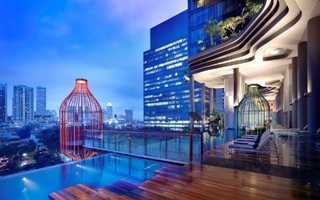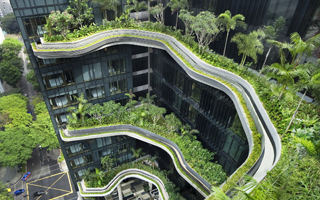 Mothersill Residence in Water Mill, NY
The Mothersill Residence is a stunning single family vacation home in Water Mill, NY, designed by Bates Masi Architects jointly with Damon Liss Inc. This vacation home connects disparate elements of building and landscape in its design, as it uses a boardwalk to the beach as an architectural tool for mixing together modern design and landscape elements.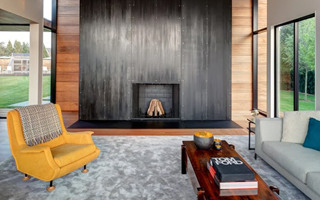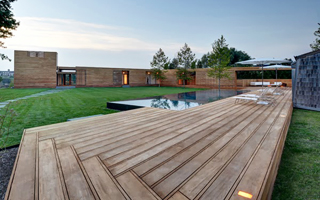 One Workplace Headquarters and Showroom Design Blitz Santa Clara, US
Being the largest furniture dealer in Northern California and the single source for Steelcase furniture in the San Francisco Bay, the One Workplace had an ambitious goal to redefine the architectural standard of the company and of the showroom experience itself. As a result we see a bleeding edged, world-class workplace that is a perfect location area for both employees and customers.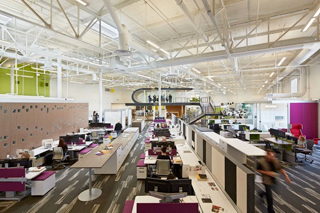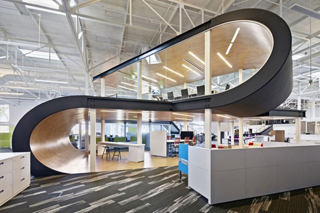 Plastic Surgery Center, Russia
This next-gen plastic surgery center designed by Michael Miroshkin and Elen Miroshkina (design firm Geometrix) amazes by its elegant beauty. The focal point of design concept is the plastic surgery center of the future generation. That's why it has futuristic style. Many experts agree that this is how the hospital of the future should look like.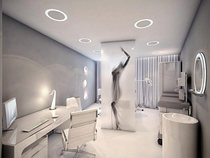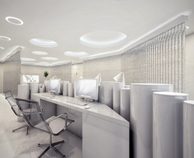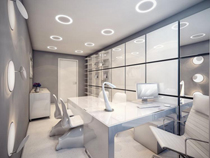 Adobe Office Campus Rapt Studio & WRNS Studio Lehi, Utah, US
New office of Adobe, located in Lehi, Utah, is located 25 minutes south of Salt Lake City, between Salt Lake City and Orem. Its impressive contemporary design has a 360-degree view and is abundant in natural sunlight and open spaces. Employees can take advantage of numerous on-site amenities, such as a café, fitness center, basketball court and a rock climbing wall.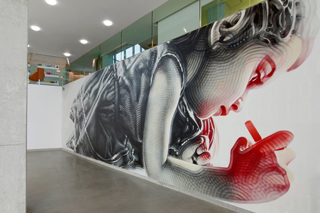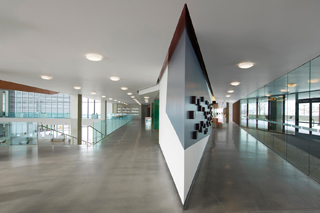 UPenn Education Commons Joel Sanders Architect Philadelphia, PA
This world-class library at the University of Pennsylvania creates a flexible environment for students. With three majestic brick arched windows the library is full of natural sunlight. Blue color creates a refreshing atmosphere and brown carpets and furniture create a warm earthy look. Not overpowered with design elements, it has deservedly become an award-winning design project in 2013.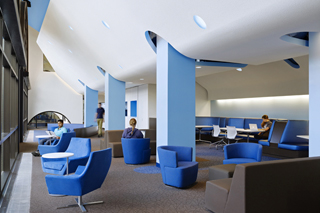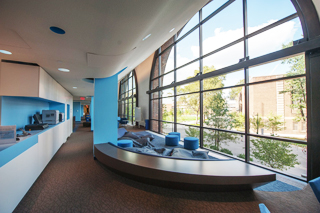 A-tuin restaurant in Bulgaria city of Sofia, by Dimitar Gongalov
This A-tuin restaurant, located in Sofia, Bulgaria, was designed by Dimitar Gongalov in connjuunction with a design firm VBstudio and conveys the spirit of Terry Pratchett tales. With its magnetic color pallet and stylish furniture sets it has become a perfect place to spend the evening hours with friends and colleagues.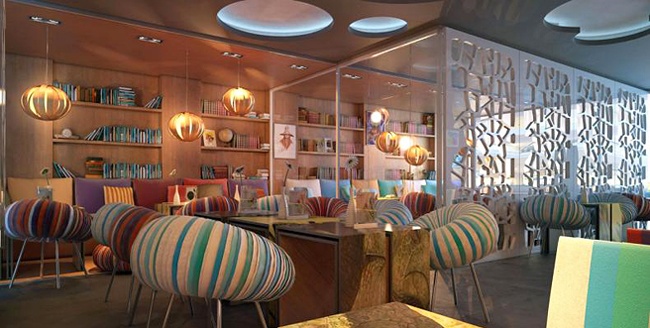 Truly, finding real interiors among 3D renders can become a daunting task, isn't it?
Being a 3D modeling studio, 3D-Ace offers 3D architectural visualization services including modeling, texturing, rendering, animation and visual effects.
Visit our Portfolio to find more 3D interior and exterior samples.