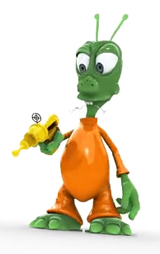 In 2011 TechNavio conducted a research and forecasted that the Global 3D Animation Software market will grow of 17.4 percent over the period 2010–2014.
Now, standing on the cusp of 2014 it is time to admit that 3D animation has become a rapidly growing phenomenon, worth around $40 billion globally.
The rapid growth of 3D animation technologies and methods of creation and delivering 3D content leads to further improvement of 3D animation products and fuels creative minds behind them. New possibilities extend the boundaries of 3D animation application making it widely utilized by many areas, such as gaming, marketing, movie industry and even architecture and education.
The prospects of 3D animation are truly massive. The following trends will continue to influence the growth of 3D animation in 2014.
3D Animation Software Trends
Modern 3D animation software is an intricate and powerful tool with rich features.
We offer an overview of Top 3D Animation Software of the future:
Autodesk Maya – can simulate more materials than any other 3D animation software.
Autodesk 3ds Max –professional software with innumerable features.
Autodesk Softimage – a perfect tool for rapid animation.
Cinema 4D – easy to learn software.
Houdini – allows easy rendering of gasses and clouds.
LightWave – provides possibility to record digital footage with real-life gestures.
Modo – a highly customizable toolset.
3D Animation in Branding and Advertising
As advanced technology progressively add the third or often even the fourth dimension to objects, which have previously had only two dimensions, it is essential for businesses to stay up-to-date. Major brands have already benefited from using 3D animation or animated elements in their brand logo. Volumetric representation of ideas or concepts creates the atmosphere, adds emotion and personality to the brand logo.
The automotive industry will continue to use 3D modeling and animation to effectively showcase their products and vehicles. 3D allows achieving the unprecedented degree of realism, getting seamless and spectacular shots that would be impossible to get with traditional camera shooting.
As opposed to traditional shooting, 3D camera movements have no boundaries. Sometimes 3D animation is used not only to showcase the advertised object, but also to create the required atmosphere, add style and glamor to it.
3D Animation in Entertainment Industry
Adoption of 3D animation in the entertainment industry continues to contribute to the rapid growth of 3D animation.
A growing number of Hollywood movie studios are investing in 3D modeling and animation due to its high spectator value and endless possibilities opening for both script writers and film-makers.
Outsourcing Trends
3D animation is gaining momentum rapidly. One of the key factors contributing to this rapid growth is increasing affordability of 3D animators' services.
A growing number of the US and European companies are sending their animation project development overseas to developing countries such as Ukraine, India, and Brazil to lower development costs and still get high-quality outcome. And this tendency will continue to grow in 2014.
Conclusion
Being a 3D modeling and animation company 3D-Ace is delivering cutting-edge 3D content including 3D models, animation and VFX. We produce custom 3D assets for marketing, architecture, game, military and manufacturing industries, etc. and deliver only unique and memorable 3D content.
Feel free to Contact us or visit our Portfolio to find more spectacular examples of 3D animation and models.