Path of Exile is a free-to-play action role-playing game (ARPG) developed by Grinding Gear Games. The initial release of the game was in 2013, and since then the project became one of the most played APRG games in the genre.
Making a living out of "ethical micro-transactions", and following a game as a service (GaaS) model, the game is a successful reconceptualization of Diablo series which they take inspiration from.
Path of Exile has gone a long way from being a garage business to a globally enjoyed and played game. In this article, we will have a look at some of their tips for optimizing 3D modeling for games.
Utilizing a counter-intuitive 13-week-sprint-based strategy, the developers are totally rocking it producing insane amounts of new content while sustaining the quality of updates. Confused? Check out this video:
Whether you're aiming big like Path of Exile or just starting out on your game development journey and need to build 3D models for games, there are several tips you can look into and learn from the Path of Exile experience to increase your chances of being successful.
In this article, we will not focus on the step-by-step guide to optimizing 3D models for different platforms, but rather on how you can use your 3D content in various situations when you need to develop games rapidly. Let's get right into it.
Practice fast prototyping and asset reuse
The success of the Path of Exile game is hidden behind fast prototyping, asset reuse, and smart resource management.
While we have no idea how exactly they manage to prototype that quickly, our artists at 3D-Ace say that there are several ways you can prototype things fast:
Have a set of pre-built models which you can advance.For example, you need to build a lot of anthropomorphic characters with different traits, shapes, sizes, etc. Do you model them from a cube again and again? No way! Have separate human models for each character class and type so you can quickly turn them into various anthropomorphic characters.

Buy or download models on stocks.You can buy 3D models for games on many platforms including Sketchfab, Turbosquid, etc. You can then retopologize and rebuild those models to use in your own projects making them look custom.

Retopologize and retexture models.Instead of creating new models, you can just add new textures on the same model and cast a new light on it.
Apart from using these cut corners methods, you can also optimize your 3D modeling workflow by establishing good communication with your concept artist and project manager. And if you own the company, then just provide more streamlined documentation to your artists so then can model things faster.
Leverage smart software for retopology and texturing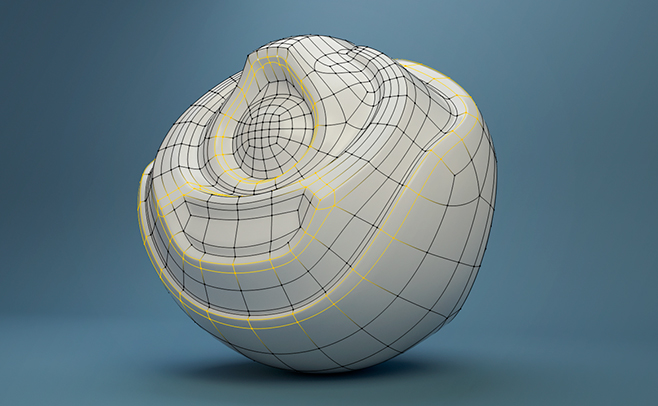 Retopology and texturing may take up a lot of your development time. Luckily there are a lot of tools which you can use to automate the retopology process and utilize smart software for texturing.
You can easily use the following retopology tools to optimize your workflow:
3DCoat – a commercial digital sculpting program which allows you to do automatic and semi-automatic retopology of your models.
ZBrush – an automated retopology tool as well as comprehensive digital sculpting software.
Mudbox – lets you generate clean, new topologies based on the surface features of an original mesh.
However, you should beware of some automated retopology tools and always be a little bit skeptical about the tools you're using because Instant Meshes, for example, generates too many triangle dead-ends which takes up you even more time to clean up.
When it comes to using automated texturing tools, the best tools are:
Substance3D or Substance painter – a texturing app for 3D professionals that has smart texturing features which significantly increase your productivity.
TerraTex – automated terrain texturing tool for Unity.
Artomatix – AI-powered texturing tool designed for texture, character, and environment artists.
Automating your 3D modeling process and powering it up with automated retopology and texturing helps a lot. However, the only drawback working with automated software is that it might mess up the work and you still have to clean a lot of things after it.
Nevertheless, you can easily speed up your prototyping and visualization process which might be useful in different industries, for example a sales pitch.
In case you don't trust automated tools, you can always hire 3D artists.
At 3D-Ace we comprehensively cover full-cycle 3D modeling by providing all types of services including:
Build full locations using procedural level generation tools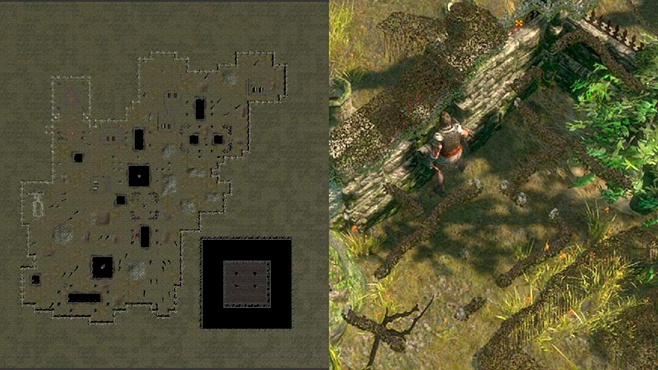 This is something that Path of Exile has nailed completely. If you've ever played the Path of Exile game, you might have seen a whole variety of locations which are randomly generated all the time.
Along with randomly generated items, multiple interchangeable locations are one of the things that increase user lifetime value (LTV) and playability. It's just never boring to play Path of Exile because it's very dynamic and unique.
This is something you can take into account when it comes to your 3D modeling for games or building 3D environments for games.
However, beware that you need to create multiple "content blocks" beforehand.
For an automated generation of environments or location, you need a custom tool, script, or platform that would provide you extensive customizability and randomness options.
So, basically, you still have to do a lot of manual work which doesn't seem to be optimizing anything at the start. However, as your game grows, this is something that will help you scale it quickly like Path of Exile did.
The game developers are launching new updates within a 13-week cycle maintaining the quality of content and its uniqueness. They are only able to do that because they've created an insane amount of content and uploaded it into an automated location building tool.
Just think about what models your locations have, so you can target the needed models. For example, you can build:
Trees, grass, bushes
Chests, boxes, barrels
Animals, objects, etc.
These are the things that add up to the atmosphere and richness of the game and you can pretty much automate this process.
You can also create bosses, packs of mobs (monsters), loot boxes, etc., and spread it across the map randomly.
If you need a pair of professional hands to help you with 3D content production and modeling for your games or other projects, feel free to contact us here.
Visit the 3D-Ace profile on ArtStation >>>
Reuse blocks of content
Reusing content is something that everybody does, and it is exactly what helps them manage intense workload.
You may have heard a quote which sounds something like that:
"Being unique is taking what's already on the market and adjusting it in a creative way"
Reusing blocks of content is especially useful when you need to:
Create seasonal content fast
Create a limited amount of 3D models for a particular event (Halloween, Easter, etc.)
Generate a background environment, etc.
There are a lot of ways you can leverage what you've already created. This is just a quick example of how Skyrim community of developers uses the same models to create various environments.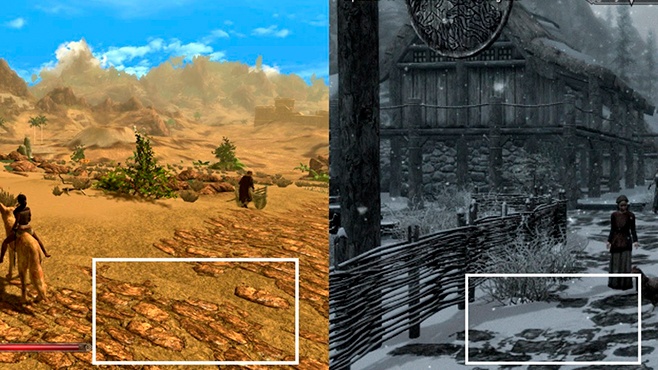 In the example above you can see how a road was slightly adjusted to the new environment with just a little bit of texturing.
In fact, different models are used all over the place, mountains, trees, fish, etc. The models are the same, but by simply changing colors and adding new textures, the model becomes a new game asset.
At 3D-Ace, we can also help you build various environments and gaming assets which you can use all across your project. Take a look at one of our examples of a medieval gate.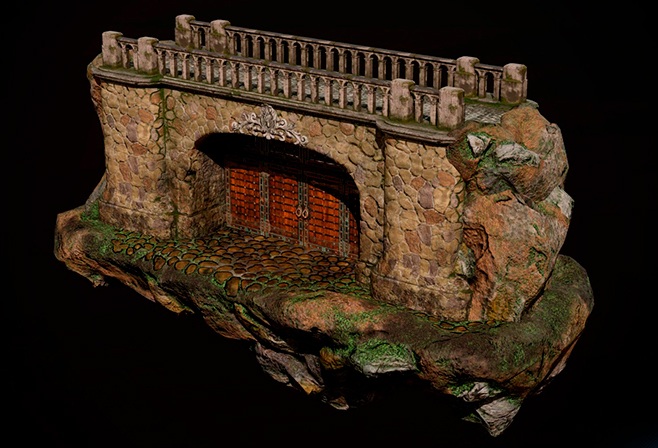 Always create content for future updates
Another invaluable tip that Chris Wilson mentioned in the video during the GDC19 conference when talking about Path of Exile is that you have to create content for your future.
You never know how you can use your 3D models in games, but as long as you're aware of your direction, storyline, and style of the game, you can definitely make use of the content you've created.
You may even want to switch from one device and platform to another. For example, you may want to gain the market share on mobile devices by optimizing your 3D models for mobile games or even porting 3D models on AR/VR.
So, simply create 3D models for the future keeping in mind the UV maps, topology, and other model parameters to be ready to use the content when it's needed.
Conclusion
Whether you're just starting off with your game or you're already rapidly scaling and need to hire 3D artists who can understand not only the concepts of 3D modeling but also the business processes and future project vision, get in touch with us and we will help you out.
You can check out our portfolio here.