NFTs have recently become incredibly popular, it isn't already big news. While most of them are created in two dimensions, many enthusiasts continue to wonder how to create 3D art for NFT. Moreover, this question appears in a new light when it comes to making 3D NFTs for business purposes. After all, why should you even want to? What are the benefits?
Among a plethora of NFT art services as well as courses dedicated to creating NFT masterpieces on your own, you had better find the most appropriate path of yours. Fortunately, this article is just about to reveal the ins and outs of how to create 3D art NFT for businesses. Let's now go ahead and bring all the secrets out into the open!
What Is 3D NFT Art?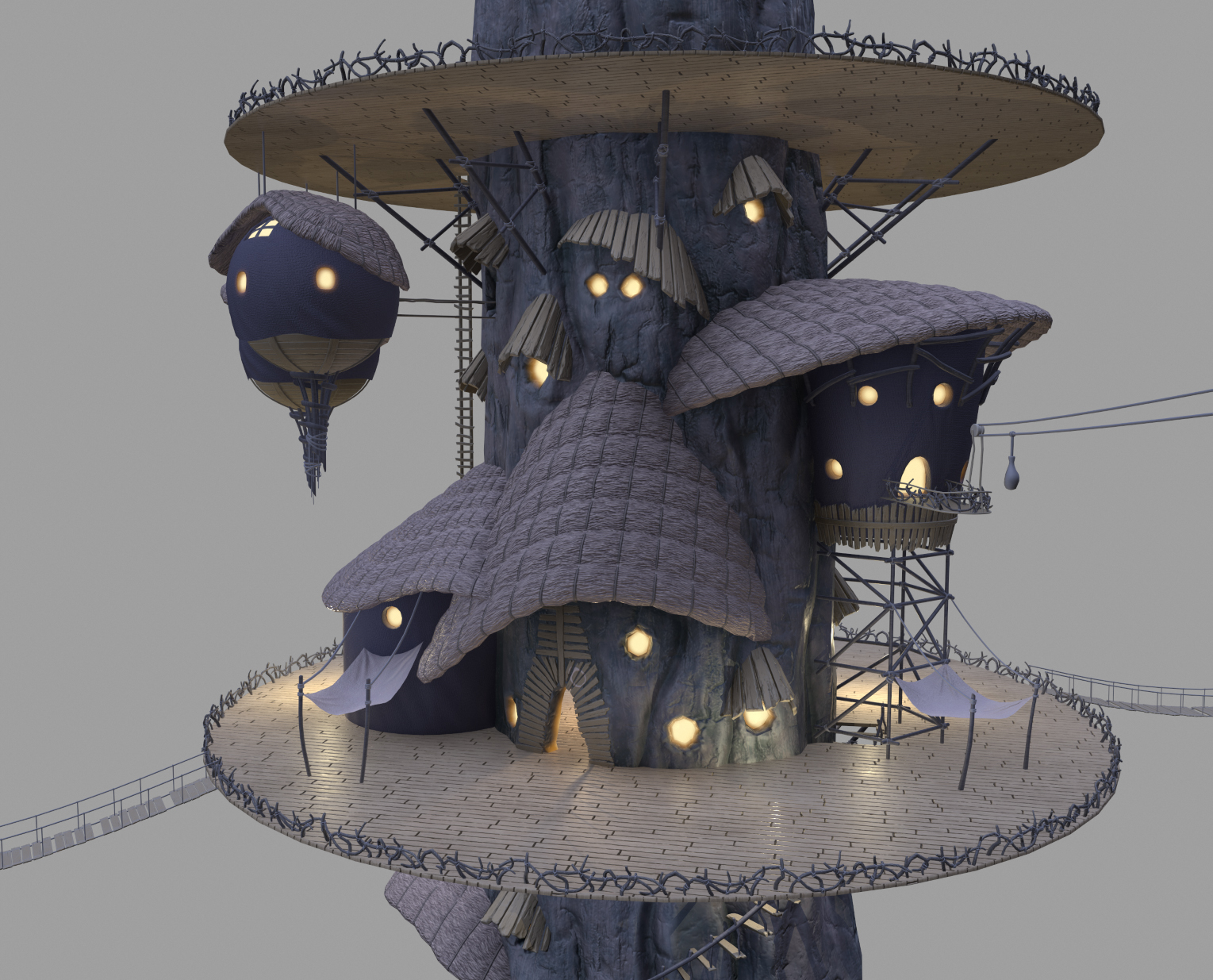 How much do you know about non-fungible tokens? In any event, here's a quick note to remember. NFTs represent tokens information about which is stored on a blockchain, and as it's evident from the term, they can't be equally exchanged like Bitcoins or other crypto. If you produce art for NFT, be aware that all the data regarding transactions will be stored on distributed ledgers of blockchain technology, ensuring maximum cybersecurity.
Apparently, unlike 2D NFT art, its 3D form implies the same technology under the hood but occupies one digital dimension more. What's the difference? It chiefly touches upon the software you use to create 3D NFTs. While to make 2D non-fungible tokens, you can even use photos of your real-life drawings (though it's more of an exception than a rule), producing 3D NFT art requires the knowledge of modeling software like Blender or 3ds Max.
How Profitable Is 3D NFT Art Creation?
Can 3D NFT artworks be as expensive as two-dimensional ones? Of course! In particular, DJ and producer Steve Aoki and Antoni Tudisco released their collection of 3D NFT artworks called "Dreamcatcher." One of its animated pieces, Hairy, was sold for $888k on Nifty Gateway. But it's nothing compared to Beeple's Crossroads, priced at $6.6m or Everydays — The First 5000 Days, auctioned at a shocking $69m.
Here arises a logical question — where to place your 3D NFT artworks to make a profit? For this purpose, blockchain-based businesses launch NFT marketplaces, including Rarible, OpenSea, Nifty Gateway, Binance, and the rest. Each adheres to a particular philosophy of what type of art to place, but you can mint any NFT there. Just read their terms of use and pay careful attention to gas fees. Depending on the blockchain, they will vary.
How to Create 3D NFT Art — Key Takeaways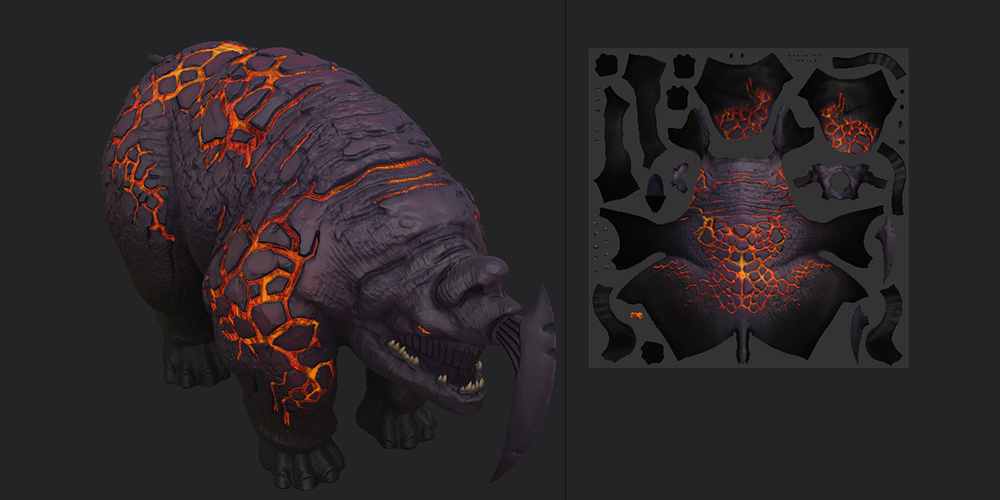 Beyond question, not every single 2D or 3D NFT art hits the jackpot. Many digital artists lose considerable amounts of money they spend on gas fees, let alone other investments. That's why it's more beneficial to seek an NFT artist for hire. They will know exactly not only how to create 3D NFT art that's visually appealing but also one that sells itself while you monitor the crypto market. Still, if you need to know how it works from the inside, here's a process:
1. Coming up with a concept. During this phase, artists begin to brainstorm various ideas and sieve them based on relevance as well as feasibility within the estimated time frame.
2. Collecting references. Once an artist assembles all the ideas in their mind, they get familiar with a theme of what they are willing to depict and collect references for more inspiration.
3. Drawing sketches. In some cases, an artist can decide to create some sketches before they begin to make 3D NFT art. Usually, it's discussed with a client or team members, depending on each specific situation.
4. Full-scale work. As soon as the sketches are approved, an artist opens up any 3D editing software of their preference, be it Blender, Autodesk Maya, ZBrush, or any other, and starts modeling/sculpting the desired result.
5. Polishing and publishing. If it's a static 3D NFT artwork, an artist is done and can mint it. In turn, if you want an animated masterpiece, it's time to add details, animate the scene or character, and release it on OpenSea, Rarible, etc.
Even if you already know how to create NFT 3D art, it's time to gain insight into promoting the product, whether it's a single artwork or an NFT collection. Today there are myriads of high-quality artworks auctioned on NFT marketplaces. Hence, you'll need more valuable information and a team of capable marketing specialists to make the world see your work.
3D NFT Art Market: Data, Forecasts, & Reflections
According to Statista, the total value of sales of NFT art decreased from $78m at a certain point in 2021 to $25.5m by September 15, 2022. Although this statistical data indicates a dramatic drop and incredible market fluctuations, the industry continues to reap the benefits from selling 2D/3D NFT artworks. Despite a recent downfall in the value of non-fungible tokens in the art sector, the overall picture is promising.
Total value of sales involving a non-fungible token (NFT) in the art segment worldwide over the previous 30 days from April 15, 2021 to September 15, 2022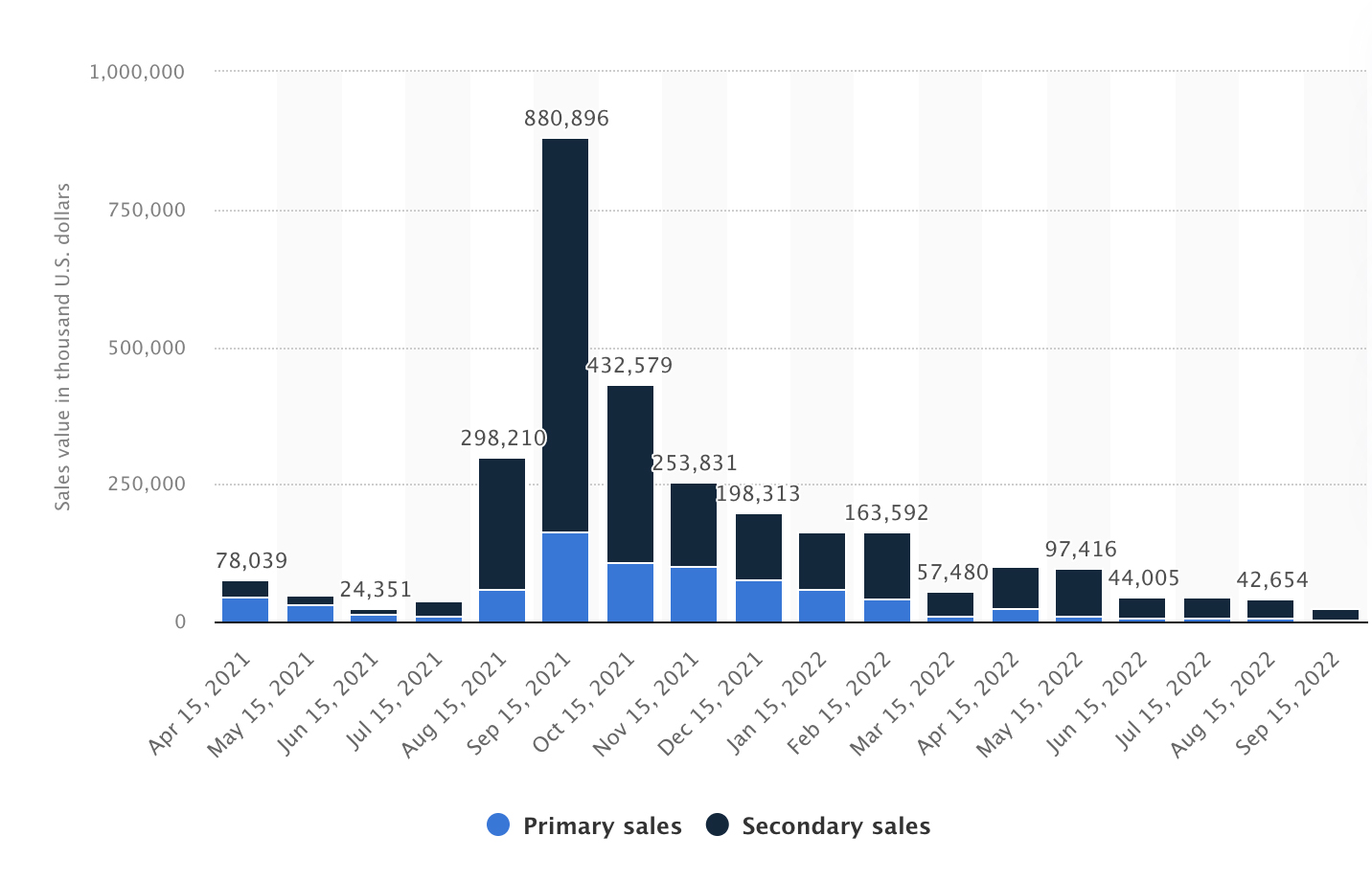 What's the reason, you may ask? Since NFTs function in conjunction with blockchain technology and are facilitated by the advent of the following internet iteration referred to as Web 3.0, it doesn't exist in a vacuum. Instead, the industry's bet on decentralization, metaverse development, NFT games, and other manifestations of Web3 will eventually make non-fungible tokens the new normal for digital artists.
Another crucial aspect is the authentication and transfer of ownership of digital assets, be it artworks, virtual properties/land, etc. It's essential that humanity examines NFTs not as a temporary phenomenon but as a revolutionary approach to establishing decentralized global ownership of virtual products. Just imagine. 2030, dozens of metaverses, people buy virtual items more than physical ones. How else is it possible without NFTs?
Thanks to interoperability, decentralization, and other valuable benefits of blockchain technology, the market is expected to stand on the pillars of non-fungible tokens along with cryptocurrencies. Particularly, 3D NFT art has even more potential in the world of Web3, inasmuch as immersive technologies are about to change the way people communicate, work, and entertain themselves on the internet. Make haste to jump on the train!
Stunning 3D NFT Art with 3D-Ace
Whether you want to create 3D NFT art on your own or hire somebody to do it instead, keep in mind that it's always better to partner with professionals who already know the ropes. 3D-Ace is one of the industry experts able to build a team of reliable designers and artists.
We can help you extend your in-house team with experienced 3D NFT art designers who have managed to finalize hundreds of successful commercial projects. You can become one of the satisfied product owners with fascinating collections of 3D NFT artworks for your internet audience. Join the community of people who bet on the future and decentralization.
On your way to the most ambitious business goals, partner with 3D-Ace. To make this path more secure as well as rewarding, contact us and discuss all your project details! Together we can move mountains.