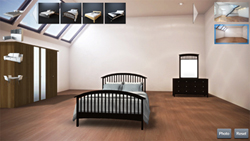 3D has entered different spheres of life. Today it is hard to imagine any better way to see the future of a house, its exterior and interior design.
Most architects and designers cannot go without showcasing their ideas three-dimensionally and we will tell you why.
Creating interior design in 3D is becoming a common thing for the increasing number of people. Some people want to become the owners of luxury high-end interior, the others want to save on repair and finishing works. In any case using 3D for visualizing their ideas all of them will be satisfied with the result.
As a rule, the initial phase of the future interior design is a hand sketch or a 2D drawing, but, as many claim, even competently drawn 2D image cannot convey the beauty and overall atmosphere of the future house, that is why one of the most popular services offered by 3D studios has become creation of architectural renders or interior visualization in 3D.
Thanks to advanced 3D technologies, labor-consuming hand drawing has passed into oblivion, and architectural design process has become easier by times. Modern luxury interior without 3D just cannot be imagined.
3D modeling enables easy changing of colors, textures, materials and furniture items. When the changes had to be done manually, it took up to several weeks to get the final room or house interior design, but today major alterations can be done to the initial layout with the click of a mouse.
Furthermore, 3D visualization of interior is the best way to see the future of your house and feel its atmosphere with the opportunity to easily fill gaps in design, save money and avoid major alteration after the completion of building or renovation.
We at 3D-Ace provide full range of 3D modeling services, including interior 3D visualization and guarantee highly-realistic outcome of all projects.