Do you want to create an exciting game, putting less time into the development process, or are you just into more simple graphics? Then the low-poly video games are a perfect fit for you! But first things first, so those who want to refresh their knowledge can figure out what the low-poly means. Further, we will go with the main principles of decent low-poly graphics and examine them with real examples.
So, you are welcome to explore the essence of low-poly video games and even helpful 3D modeling services providing high-quality content for games. Let's dive in!
Main Principles of Good Low-Poly Game Style
According to modern research, when playing a 3D video game, most people primarily seek mystery, challenges, and excitement — all the components of gameplay. At the same time, many gaming companies focus on visuals, even though the time of 3D modeling can take more than 100 hrs for high-poly models.
That means game developers can save time creating 3D models, paying more attention to the gameplay, and choosing other methods to make content. So, how can low-poly graphics help you with time-saving and keeping visuals attractive? Let's look at low-poly games in more detail to find the answer.
Low-poly games: Repeating the basics
Mainly, the content for most 3D games is made with the polygonal modeling technique by using polys (polygonal shapes) to create a polygonal mesh in the form of a future model. In order to make a model look good and natural, 3D artists use mathematical formulas to set the right proportions for it and then edit each poly to add more details.
And there's the essential part — this popular 3D modeling technique is primarily used in games and is divided into high-poly and low-poly modeling methods. High-poly is the one used to create highly detailed and often photorealistic models, so artists develop a model with a high number of polys. At the same time, the low-poly method takes fewer polys to model a character or any asset and accordingly requires less time for their development.
In case you want to know more about 3D modeling, you can dive into more info and tips on how to create beautiful assets for video games.
What makes graphics for low-poly 3D games stand out
Making your models with a low-poly modeling method doesn't actually mean they won't look attractive. Following 6 simple principles of high-quality 3D modeling, you'll get high-quality and striking visual content that your target audience would adore.
Make your model look smooth with specific tools. Most CAD (computer-aided design) software contain a tool working by smoothing algorithms, so it can quickly reduce the number of models' polygons. For example, Blender 3D offers a function called Shade Smooth which also has an option of the Auto Smooth. By using this, you set up an angle (usually, it works better with an angle of 30°) so that all the angles that don't fit would be removed.

Spice it up with some detail. Making low-poly characters, give them a particular style and eye-catching details. When game characters look exciting and have some unique elements that catch gamers' attention, they don't have to be photorealistic to make your project special.

Put effort into texturing. Once you have a final form of a model, you should create a high-quality texture instead of merely painting it with some colors. In creating a texture, you make several layers of specific colors, patterns, and shapes, merging them into complex material. Thus, your models look more natural and impress gamers with their quality.

Use normal mapping. Working on textures for low-poly graphics, use normal mapping — an effective method of texturing based on lighting manipulations that makes relief look a certain way. This allows imitating some details without their actual modeling so that the poly count can stay low.

From high-poly to low-poly. In case you have extra time, you can use a trick like that. Step one — create a high-poly model that gives it all the essential features you want to see without much detail. Step two — make a low-poly copy of that model. Thus, you'll get a smooth 3D model with fewer poly counts, making its size smaller.

Choose quads for polygons. Since artists can use any polygonal shape to create a polygonal mesh when modeling, they can choose anything — from triangle to pentagon. In fact, using quads is more appropriate in the case of low-poly modeling, as they are well-transformed into subdivision surfaces.
10 Best Low-Poly Games
Now, you are at the most fun part of this journey — exploring low-poly games that have won the hearts of many gamers. So here are the top low-poly games proving that low-poly graphics can rock!
1. Don't Mess With Texas
A solid example of a well-looking game initially designed to promote the decrease of littering in Texas introduces us to a fictional world where the main character decides to clean the litter left by a local gang.
The game was created exclusively with low-poly assets, showcasing an appealing yet straightforward visual environment. During the gameplay, you play as a young armadillo whose primary goal is to collect different trash from the ground. Thus, targeting a younger audience, the Game-Ace developers convey a vital mission — teaching kids/teenagers to save our environment.
2. Superhot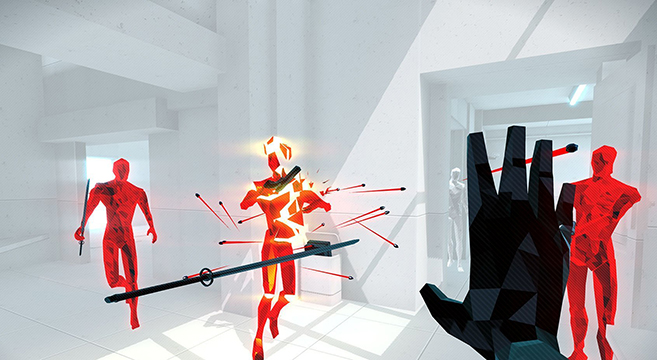 Superhot is one of the most exciting low-poly FPS games developed in Unity. The game allows players to kill enemies with various guns and melee weapons in different time & space conditions. Eventually, the central feature revolves around the ability to plan a player's actions, as the time only moves when the main character performs any activities.
Graphic-wise, the game is also distinctive in its style; gray and white surfaces only add to the contrast of the black weapons and the red enemies, giving extra chills when you shed their blood in slow-mo.
The game has also given some remarkable VR experiences, as not every game can let you stop the incoming bullets with your VR controller. Despite some sizable issues with the VR port, Superhot has managed to look gorgeous and fun at the same time.
3. Morphite
Morphite is a game developed for mobile, console, and PC platforms that's very reminiscent of No Man's Sky (NMS) in its concept. To its credit, the game had learned a lot from the NMS flop and managed to provide users with a vast number of randomly-generated planets that are open for exploration.
Being a low-poly adventure game, it strives to have broad areas. However, it can't be boastful about its inhabitants, lacking the density of various living creatures and plants due to its initial platform limitations.
Given that the game has been initially developed for mobile devices, it probably doesn't have the prettiest low-poly assets. Still, its scope amazes when spending hours and hours just for exploration's sake in a colorful world.
4. Astroneer
Astroneer is another sci-fi peer that spurs players to explore different planets. The game was created with Unreal Engine 4 and is available for Xbox and PC. The graphics look notably better than the previously-mentioned game, presenting striking game objects galore.
The lack of a tangible goal doesn't appear to be an issue since the nature of the planets is mind-blowing sometimes, causing you to forget the low-poly core of the game after you take a look at the sky or the grass beneath you.
Such factors as terraforming and the changing day & night phases only amp up the immersion factor, not to mention the beautiful vehicle and gear at the player's disposal.
5. Morbus
Morbus is somewhere in between an MMORPG and a low-poly survival game, demanding players to fight between each other and capture villages, kill NPC creatures, and other typical attributes.
Even though the game doesn't impress from a gameplay standpoint, given how small the development team was and how simplistic the 3D graphics are, it has some stunning visuals. Especially during night combat.
Not to say that the game has shown some groundbreaking graphic solutions, but it's a prime example of how powerful the Unity engine can be, allowing it to achieve outstanding performance without the usage of complex 3D modeling and animation/VFX effects.
6. Clustertruck
Clustertruck is a game worth mentioning, considering how massive it got over the recent year. There were many reasons why it became popular, mainly due to the smart development team. It included a great marketing strategy of sending game copies to Twitch and YouTube personas before the release date.
Messing around with those players during the live streams, showcasing how dedicated they were, had also created a positive mood around the player base — not to mention the gameplay was nice and addictive.
The visual look of the game was also worth commendation. There are many factors that have played a considerable role in creating a great gaming experience. Some of them are high frame rate; incredibly polished image; the great contrast between the white trucks and the colorful surfaces, obstacles, and the changing environment.
7. Night In The Woods
Night in the Woods is an adventure game made with Unity. Yet another game where graphic fidelity wasn't the main part of its success, but it's hard to deny how big of a role the environment design has played.
Not expecting too many stunning visuals from a 2D game, it still maintained an enjoyable and cozy visual component, despite the terrain distance being reasonably narrow. Add some great characters, terrific writing, and funny dialogues to decent-looking graphics, and you will receive a well-deserved 87 points on Metacritic.
8. Grow Up
Grow Up is a game that grants access to an open world where you control a robot whose primary goal is to collect ship parts by climbing the monument of the world. Given how much time you need to spend reaching the location vertices, you will notice how great it is to behold the planet beneath your robot.
Staring at the sky is another thing you may find yourself doing, as once in a while, it will distract you from constant peak reaching. The shadows look terrific, and the clear sky around you creates an excellent mood for the game's time being, let alone the beautiful waterfalls.
9. Virginia
Virginia is an adventure game, also made on Unity engine. Praised for its thrilling storytelling and well-designed interaction, it also garnered attention for its gorgeous looks, especially when driving a car through the rural parts of the state. Sometimes it's hard to believe the game was done with low-poly assets, considering how the state of Virginia is portrayed.
At no point is it disappointing to witness the game's beauty, neither nature nor the buildings' interior. If you want to be entertained by a coherent story and the grace of the Mid-Atlantic state, then Virginia is a go-to option since not many games can represent this picturesque place in all its glory.
10. Fruits Of A Feather
Fruits of a Feather is an excellent game for overall relaxation, allowing one to soar through landscapes and collect fruits as a primary goal. Surfing through trees and exploring caverns might seem boring for some people. However, the friendly and relaxed game environment, paired with genuinely adorable music, creates a seamless experience. Weather effects also serve a great deal.
Entrust Low-Poly Modeling Task To Experienced 3D-Ace Team
As you can see, a widespread notion that the game's success is defined by its graphic capabilities isn't fair enough. This leads to a simple takeaway. Regardless of how many polygons each asset has, a team of professionals creates them most efficiently, saving the company's budget and drawing a broad audience to a product.
Thus, looking for a partner for content production, you can rely on the 3D-Ace company and our skilled modeling artists. We can provide you with 3D modeling for games, from concept art to animation. Moreover, we are capable of creating video game content for various platforms — mobile, AR/VR devices, PCs, and consoles.
So if you are in need of outstanding low-poly modeling services — contact us to discuss the details of your future project.