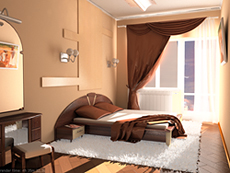 Hyper-realistic rendering have definitely changed the idea and image of architecture. Breathtaking photo-realistic images of architecture captivated the industry leaving little space for traditional drawings and maquettes. Due to easy availability of architectural renders people start to lose the true value of a rendering these days. This creates the impression that all architectural renderings appear similar regardless of their creators (designers or 3D artists).
And this opens very sad prospects for architects and architectural visualizations in particular, as it tends to transform architecture from art to a commodity.
Today, more than ever, designers struggle to prove their professionalism and their own value with the potential of digital visualization. All of them want to keep up with the times and stay on the crest of the wave using the most advanced 3D modeling and animation software tools in the industry.
Rendering as a Purely Marketing Tool?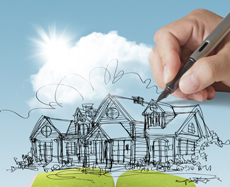 In these days and age most architects use 3D renders for marketing reasons. Because a good architect does not need any visuals to see the result, as he has it in his mind already. They generally envision what their designs are going to look like even before starting to make any drawings or sketches. So, 3D renders are often the only way to present ideas of architects to the audience, find investors, or show the client what they will see when the construction is completed, when someone removes the veil and says "Ta-dah!"
100 years ago it was hard to imagine this kind of client-architect relationship. In those days architects had to be fully entrusted and designed nice, esthetically pleasing buildings. Architects were taught how to render in pencil, watercolor, or though other mediums. So, the final result was also a surprise, unfortunately not always pleasant.
What is the Future of Architectural Visualization?
Not to disappoint clients by the final outcome modern architects utilize 3D modeling and animation software tools to provide potential customers and investors with a complete visual presentation of future premises, which can be viewed from different angles, rotated, zoomed in and out.
Today, architectural renderings can be hardly differentiated from each other. It's only a matter of time when 3D designers like photographers will start to develop different styles not to get lost among thousands of architects with same-type quality renders. We consider this a great opportunity and challenge for architects to develop and distinguish themselves.
What all architects should be really concerned about is the level of credibility. Hyper-realistic renderings often look too good to be true. Surely, they are eye-catching and marketing-driven, but bear little or no resemblance to reality at all. The downside of this all is that this drive for perfection puts credibility (a vital asset in any business) at threat.
Being glamorous enough, photorealistic architectural renderings have nothing to do with photography, nor with reality.
To avoid that, 3D-Ace designers consider multitude of ways that could accomplish renders to create an individual company style:
we try to break from the pack
and continually evolve our own style.
We cultivate our abilities and call on designers and architects to entrust the creation of 3D visualizations to time-proven and reliable contractors.
Being a 3D modeling company, we understand all peculiarities of the industry and utilize our experience and technical expertise to create unique and vivid visuals for architectural presentations.