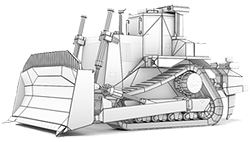 Advances in computer technology today impose high requirements not only to the quality of products, but also to the ways companies present their products and interact with customers. Manufacturing enterprises producing complex engineering solutions are not an exception.
Previously, the only way to visualize manufacturing products was engineering 2D drawings that gave the insight into the structure, but did not give the most straightforward representation of operation principles of a gear or a complex industrial systems. In addition, engineering 2D documentation is rather massive and complicated for non-technicians. Undoubtedly, creating a model of manufacturing products is impossible without 2D drawing as it is a basis of any product development. Why then do we need 3D?
In light of technological advancement and the related requirements to explain the most complicated industrial mechanisms in the simplest way, it becomes more cost-effective to use 3D visualization. For employees to remain competent in the use of manufacturing hardware, it might prove useful to address a capable 3D modeling company that can develop any custom 3D simulator!
Why 3D?
Fair to say, use of 3D modeling as a visualization tool is not a sensation, but in most cases manufacturing companies and industrial giants use 3D modeling at the final stage to achieve a final agreement with investors and customers and start production. The majority of manufacturers do not use 3D modeling as an effective sales and marketing tool. Meanwhile, realistic visualization during the first acquaintance with the product allows investors to get a complete idea of the product model and make positive decision.
Cross-section View
Today, there are a lot of specialized 3D modeling software tools allowing to get cross-section 3D view of the product and see all its elements in work. Thus, consumer remotely and in short time can get the most complete idea of the product and its performance parameters. While the majority of manufacturing products can be hardly visualized through 2D drawings and cannot be bought unseen, 3D modeling often solves this problem providing fully-functional product view that can be zoomed in and out, rotated and viewed from different angles, sometimes even disassembled and reassembled. Some industrial companies move forward and create 3D animation of complex industrial solutions showing the system in action.
3D-Ace created this 3D animation for Johan Huibers, the inventor of the Fluid Generator showing new technology of transporting water from the Mediterranean Sea to the Dead Sea.
Effective Sales and Marketing Tool
Many industrial production companies took 3D modeling on board as an effective sales and marketing tool. For example, adding 3D models to product catalog on company website dramatically increases the activity and interest of visitors to that particular product. Ability to add dynamics to 3D model, to show its performance characteristics makes 3D visualization maximally informative for buyers.
A good idea is to accompany 3D product models by 2D drawing and technical description of the product. Such product presentation and promotion looks more advantageous in comparison with complex technical description on competitors' websites. 3D models of products invoke much more interest than standard drawings or attached images that represent a static one-side view.
Show Your Professional Approach
Such comprehensive approach shows professionalism of the manufacturer and makes his products stent out from the rest. Using 3D models and animation of your products in presentations during conferences and trade shows will be highly appreciated by potential customers and investors.
Thus, an ordinary operating tool can turn into an effective method of demand making, bringing industrial production to the next level.
This Oil Platform Simulator created in partnership between industrial subject matter experts and 3D-Ace specialists.
Why 3D-Ace
We are a 3D modeling and animation company specializing in creation of high-end 3D content for different companies including manufacturing and industrial enterprises. We have a long-term experience of successful cooperation with oil and gas companies: we created the Oil Platform Simulator based on proprietary Ace3D Engine, which is a highly customized product that can be easily adjusted to the needs and peculiarity of different companies and training courses. Our company is ready to develop CUSTOM solutions for the needs of your company too.
Please Contact us to learn more about our expertise and how we can help you visualize your project.