Nowadays, the competition between various stores and vendors feels like a battlefront. While the battles were once fought through malls and brick-and-mortar store chains, most of the fighting is now taking place online. For eCommerce vendors, simply running an online store is not enough to get a competitive edge – you also have to offer customers something others cannot.
Some companies, like Home Depot, Sephora, Kohls, and Adidas, gained the edge when they chose to create augmented reality content for eCommerce and present it to their customers. You can do the same for your business by creating this content yourself or ordering custom 3D modeling services.
What Type of AR Content Can You Make for Your Online Store?
Augmented reality (AR) content can mean different things, depending on who you ask. Some people classify it as the models, animation, and content found inside AR apps, while others call any sort of AR media (including apps themselves) this type of content.
Whichever definition you prefer, the formula is the same: 3D models are packaged into an application, where they are often given immersive attributes and animations. The application then uses the camera of a user's device to capture footage of their surroundings, and puts up new visuals on the user's screen which layer digital elements on top of real-world visuals.
We can use the aforementioned Sephora as an example: their app's "Virtual Artist" feature captures footage of the user's face and visualizes how the face might look with different makeup packages applied.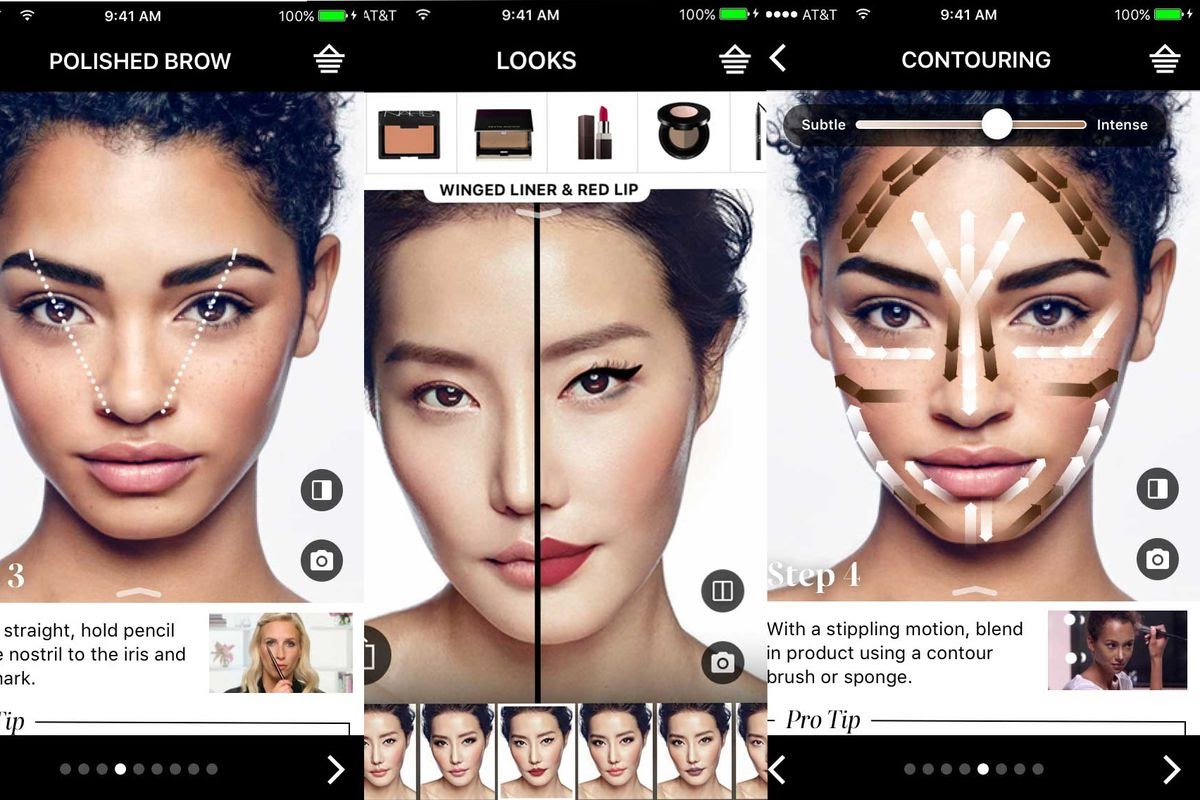 Due to the peculiarities of AR (requiring a camera and screen), this technology is best suited for mobile devices. The application can be presented through a standalone app installed on the phone or through a technology known as WebAR, which leverages the phone's camera and visualization features directly in the user's web browser.
Types of AR Apps You Can Build for eCommerce
Below are the most common app types eCommerce providers tend to build:
Visualization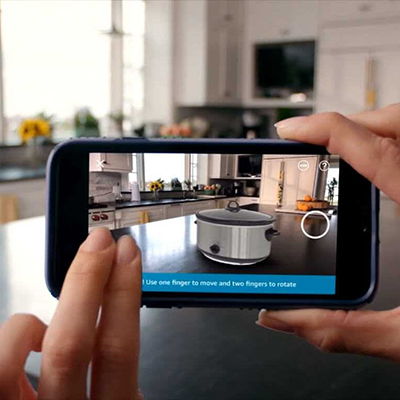 This is the simplest app type, basically just visualizing a product in the user's environment. If you want to make it more useful, you can make the app analyze the setting and present the product directly on top of a surface (or other relevant location) and in the proper scale (size).
Configurator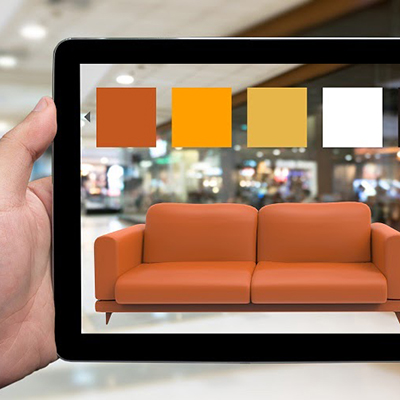 A product configurator helps users choose the variation or version of a product that they like the most. Thus, the app will not only visualize the product, but let the user alter its color, accessories, build, and other characteristics until they find the version that they like.
Try-it-on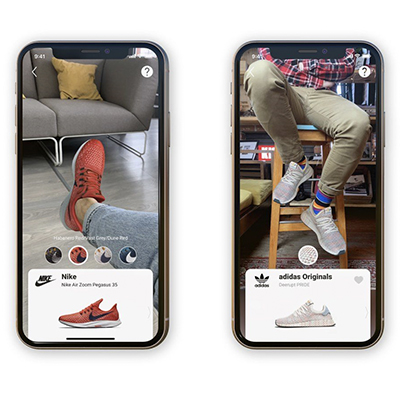 This is one of the more complex solutions, as it demonstrates to the user how the product will look in use. For example, clothing can be digitally layered on top of the body, and certain animations can be added to show the product in movement.
Custom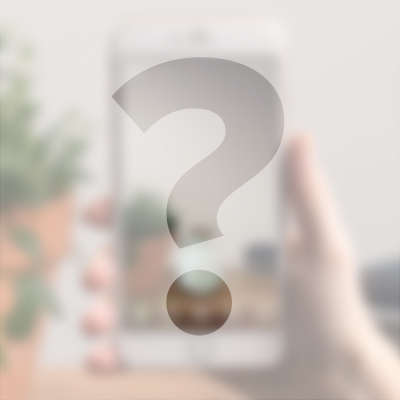 Some companies opt to mix and match the aforementioned features, or create new ones of their own. There is certainly a lot more that you can do with AR, so you can keep an open mind and consider the possibility of building something that we haven't covered.
How 3D-Ace Creates AR Content for Online Stores
Our studio has been creating AR content for eCommerce vendors for over a decade, and this has allowed us to perfect the process. Check out the broad strokes of how we created a few such solutions:
Running shoes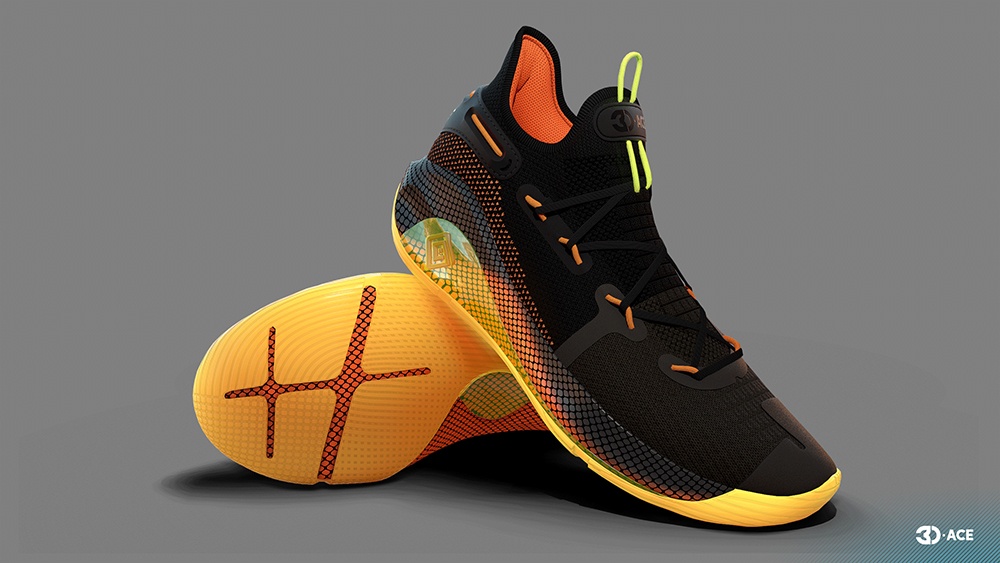 This is a render of a shoe model our client asked us to model for their virtual solution. The Balenciaga Tyrex is a high-end model that we replicated with a stunning level of detail. The main model was created in Maya, but we also used Marmoset, Substance Painter, and Photoshop to add more depth and realism. The client received several variations of the shoes for their AR solution, as well as an animation that demonstrates the different-color versions to their customers.
Quadcopter project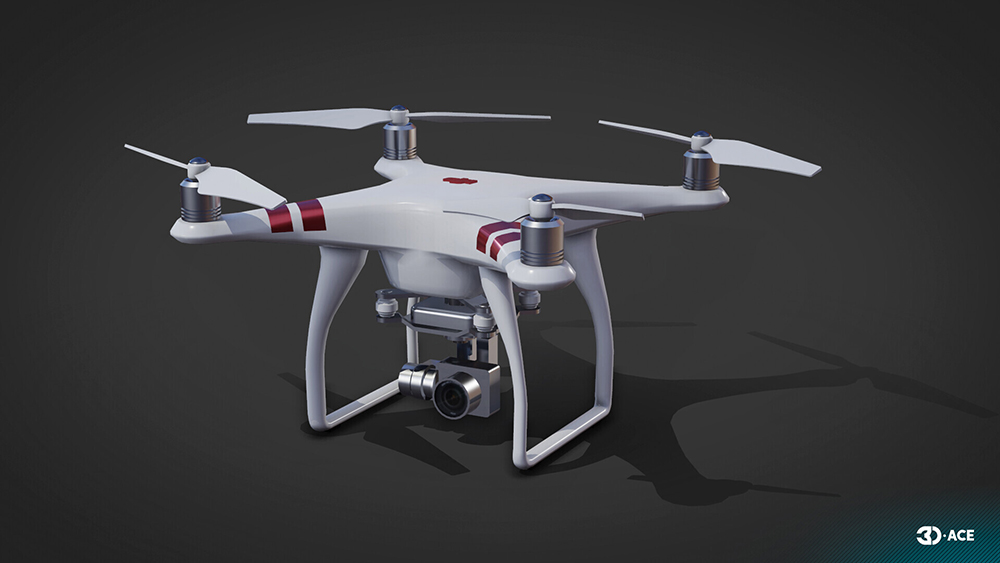 This is a render of a popular drone model, which we designed in 3D for an app focused on product visualization. Using Maya and Marmoset, we created the AR-ready model and environment, so that when the client's users see the drone in their app, they can rotate it, zoom in, and otherwise examine it in different ways.
How to Get Started Creating AR Content for Your Business
When you finally make the decision to make AR content for your web or mobile app, we suggest going through a checklist to make sure you have everything you need to take the project to completion:
Software
You will need to buy or download 3D modeling software such as Maya, 3DS Max, or perhaps a free option to create the 3D visuals, as well as supplementary software like Photoshop or After Effects for greater detail, VFX, and other flair to add to it. Naturally, all this content will need to be integrated into software, and two of the most popular choices here are Unity and Unreal engines.
Hardware


At the very least, you will need hardware (like computers) for coding and creating the 3D models. Sometimes, the artists also use graphical tablets and other equipment that should be purchased/installed additionally. Finally, you will want to test the app/content on several different devices, so keeping different phone models handy can help.

Team


You won't get very far with modeling or developing without the right specialists. Whether this is a project for one 3D artist or a more ambitious undertaking that takes a whole team, experience will matter. However, if you don't have the right specialists or they don't have the right amount of experience, you can partner with 3D-Ace as an alternative.
Our studio will be happy to create content for your online business, whether it is simple 3D models, models optimized for immersion (AR/VR) or other art in 2D/3D format. In addition to that, we have a talented team of animation and VFX specialists that can help bring your product catalog into life and motion.
Having worked with hundreds of businesses in different trades, we will effectively assess your business needs and come up with a custom solution that fits them perfectly.
To discuss your project, feel free to contact us. We would love to hear from you!