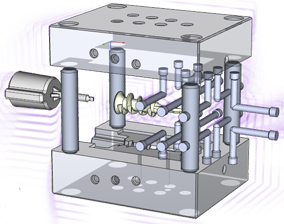 What would you choose as a user – multipage maintenance documentation or a brief, step-by-step interactive 3D user guide? Don't bother answering.
Printed user manuals are now the things of the past. The technological revolution affected the communication area and facilitated companies to create fully interactive 3D product manuals.
Many of us still do not know how in fact 3D manuals look like, as many manufacturers are still afraid to introduce 3D technologies into user documentation. And how wrong they are!
This revolutionary and interactive type of user documentation enables intuitive navigation in complex product instructions. Along with embedded 3D models, interactive manuals allow to use 3D animations and become a versatile tool providing users with step-by-step instructions on how to maintain and trouble shoot the product.
With 3D manual people always have the most up-to-date instruction at the fingertips.
People responsible for operations, service, or customer support often face challenges trying to communicate complex procedures to a global market effectively. They often face a problem when traditional methods do not work effectively and are laborious, costly and error-prone.
Using 3D images in user documentation can be beneficial for both end users and company representatives/support team. Animated 3D elements can be used to clearly communicate complex mechanical procedures. 3D manuals encourage 'Visual Know-How', minimizes translation issues and improves information retention.
Benefits at a glance
3D improves users' experience with your company.
Better user documentation increases revenue opportunities and customer loyalty.
Easy opportunity to share and change content.
More visuals create more effective product documentation.
Is helps to save time and money in manufacturing, servicing, repair.
It helps to deliver a better 'total product'.
Visual 'know-how' for product documentation
One can easily navigate the product, its parts and assemblies.
It can be easily rotated, zoomed in and out and viewed from different angles.
It provides full interactivity with the user documentation in the measure never given before.
Types of 3D manuals
Out team provides wide range of 3D modeling services including creation of high-quality 3D models for further integration in digital manuals, like:
Interactive Electronic Technical Manuals
Installation guidelines
Assembly instructions
User guides
Operating Procedures
Maintenance manuals
3D can be integrated in any type of user documentation both for operations, service, maintenance and repair.
Usually, 3D models for user documentation are produced for Adobe 3D-PDF documents; however they can be embedded into Microsoft Power Point and other document types.
Why choose our services
3D-Ace artists have extensive experience in 3D modeling of products for imbedding in digital user instructions, e.g. we produced 3D models of technical equipment including the smallest parts for repair manuals, 3D models of furniture parts for assembly instruction, 3D models of cellphones for user guides and many others.

3D models produced by our team possess a high level of accuracy depicting the finest details of a product, which is crucial for visualization of some technical details and processes.

We can produce both 3D models and full-motion animations of any degree of complexity.

Our 3D models can be viewed from different angles, rotated in 360 degrees, zoomed in and out, or completely disassembled and reassembled helping users to gain practical skills.
Our accuracy and attention to details make our 3D models stand well ahead of our competitors'.
Visit our Portfolio to find more 3D models produced by our team or Contact us to discuss your future project.