The fruits of technological imagination have always sought to pour out on paper and then to turn into reality. Earlier we could imagine a future house or room interior from a drawing or a picture, with appearance of three-dimensional computer modeling it became possible to create a three-dimensional image of a designed facility. It differs by its photographic accuracy and allows to better visualize how the embodied project will look like and make some adjustments. 3D model usually produces far better impression than all the other presentation methods of a future project. Advanced technologies allow to get amazing results.
What is 3D Graphics?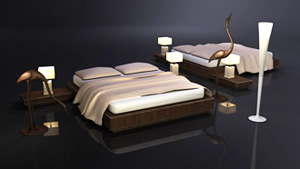 3D graphics – is a creation of a three-dimensional model using special computer programs. Basing on drawings, images, detailed descriptions, or any other graphic or textual information, 3D artist creates a three-dimensional image. In a special software program this model can be viewed from all angles (from top, bottom, side, etc.), it can be built on any plane and in any environment. Three-dimensional graphics can be of any complexity:
you can create a simple three-dimensional model, with low details and of a simplified form;

or it can be a more complex model with the finest details, texture and professional techniques (shadows, reflections, refraction, and so on).
Of course, it seriously affects the value of the finished 3D model; however, it allows to extend the use of three-dimensional model.
Use of 3D Graphics
Nowadays three-dimensional modeling (3d graphics) is used in many fields.
First of all, this is a real estate development. It can be a model of a future house (both private and apartment) or an office building, or indeed any industrial facility. Besides, the visualization is actively used in interior design projects.

3D models are very popular in website development. To create a special effect some website developers add not only graphic elements, but three-dimensional models (or even animation) to design of a website.
Three-dimensional programs and modeling technologies are widely used in production, for example, in production of particle board furniture and in building, for example, to create a photo-realistic design project of the future room. Many designers no longer use a ruler and a pencil and prefer the modern 3D modeling software.

Step by step new technologies are studied by other companies, especially manufacturing and trade companies.
Of course, three-dimensional models are essentially used for demonstration purposes. They are irreplaceable for presentations, exhibitions, and are used when dealing with clients for demonstration of a final result. Besides, 3d modeling techniques are needed to show the ready-made objects in volume, or objects that have existed a long time ago. 3D modeling is not only the future but also the past and the present.
Advantages of 3D Modeling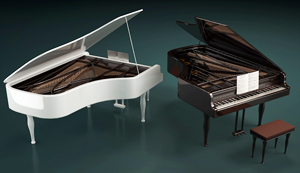 There are a lot of advantages of 3D modeling over other imaging methods. Three-dimensional modeling provides a very accurate model as close as possible to the reality. Modern software programs help to achieve high level of details of an object. And the project visualization greatly increases. It is rather difficult to show a three-dimensional object in two-dimensional plane, while 3D visualization allows further elaboration and what is most important, allows to view all details. This is a more natural way of imaging.
It is easy to make almost any changes in 3D model. You can change the project, remove some details and add new ones. Your imagination is practically unlimited, and you can quickly choose the version that suits you the best.
However, three-dimensional modeling is convenient not only for a customer. Professional programs offer many advantages to the maker. You can easily choose a drawing of some components or the entire design from a three-dimensional model. Despite the fact that the creation of 3D model is quite a labor-consuming process, it is much easier and more convenient to work with them in the future than with traditional drawings. As a result the time spent on design process and the costs significantly reduce.
Special programs allow to integrate any other professional software, such as applications for engineering calculations, applications for machines or accounting programs. The implementation of such solutions in the production give a substantial resource savings, greatly expands the capabilities of an enterprise, simplifies work and improves its quality.
What to do if you need a three-dimensional model, but there is no opportunity to buy and learn a professional 3D modeling software. Then it is better to contact a company that provides services for three-dimensional modeling. 3D-Ace Studio is a time-proven and reliable 3D modeling partner for customers fro all over the world.
3D Modeling Software
There are a large number of different programs for 3D modeling.
For instance, one of the most popular programs that are specifically designed to create a three-dimensional graphics and interior design is 3D Studio Max (3ds Max). It allows you to realistically visualize objects of different complexity. In addition, 3ds Max enables to group objects, set the trajectory of motion and eventually create a full-motion video featuring three-dimensional models. Though, such work requires high skilled specialists as well as great computer resources, especially memory capacity and speed.

Another widely used program is AutoCAD. It is also used for 3D modeling and visualization, as well as professional architectural design; it is constantly updated with new features. Quite a large number of programs can be integrated with the basic core of AutoCAD. For example, an application for visualization in such fields as ventilation, piping, electrical engineering and so on. If 3ds Max is more preferred by designers and animators, AutoCAD is mostly used by professional architects to implement complex projects.

Besides, there is highly specialized software for the design of particle board furniture – Basis Mebel.

The Arkon software is used by architects and designers to create interior design projects, as well as architectural concepts for the future buildings.

GeoniCS is a line of professional software products for professionals in the field of geodesy and geology.

Furniture designers actively use the K3 Furniture software to create kitchen design.

The Our Garden software helps people to create landscape design.
Programs for 3D modeling are highly demanded in many industries, new versions and products are constantly released. This further confirms the fact that a three-dimensional modeling is the most modern and efficient method of visualization.
Contact us to get more information of 3D modeling services provided by out team.