It has been well known long ago that a human perceives the world three dimensionally. These days 3D technologies have found practical application in advertising and marketing.
The main objectives of advertising is to inform consumers about products and services and create demand for the products (coming on stream) pursuing a goal of direct or indirect profit. Regardless to the form and type of advertising (information advertising, reminder advertising, reinforcement advertising or prestige advertising), it is becoming increasingly difficult to hold people's attention with help of traditional media. Therefore, advertisers are using new forms of advertising, namely, advertising in 3D.
3D Advertising
Three-dimensional advertising reveals previously unattainable possibilities for advertising spenders of interaction with the audience.
Three-dimensional advertising is used in various forms: outdoor advertising, print media, video advertising, souvenirs with 3D effect, etc.
Advantages of 3D advertising:
High visibility
Memorability
Novelty
Mobility
Long-term usage without the loss of quality
It is proven that people notice movements even with peripheral vision and turn attention to the advertised object. Furthermore, animated elements increase the level of visual perception of the object.
Video advertising
One of the latest usages of 3D in advertising is video outdoor advertising in 3D format. This up-to-date outdoor advertising medium successfully stands out from conventional billboards and attracts maximum attention due to its realism.
Scientists from the Fraunhofer Institute, Germany, the Real Eyes Company and Christian Albrecht University developed special displays for 3D advertising. To view such advertising, passersby do not need any stereo 3D glasses. When a person comes close to an advertising medium, an image starts changing with every step he takes depending on the viewing angle. Display creators are confident that this invention will primarily interest the representatives of outdoor advertising industry. 3D advertising has already been used by many world-famous companies such as Coca-Cola, Adidas, Cavalli, Dolce & Gabbana, Ferrero, Heineken, McDonalds, Nike, Nivea, Motorola, Ermenegildo Zegna, Gucci, Garmin and many others.
Among the main disadvantages of video advertising in 3D there are its high cost and the lack of specific safety and quality standards that would allow viewers to perceive three-dimensional image on the screen without any harm to health.
3D technologies has reached not only video ads, they have made innovative changes in other forms of advertising too.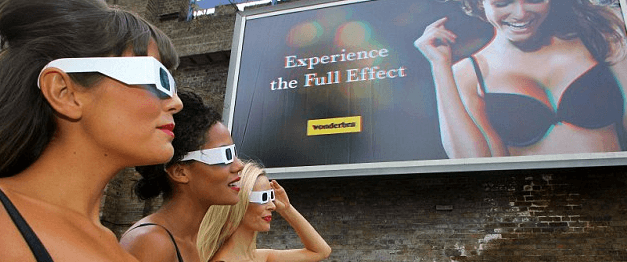 Wonderbra's 3D billboard, London
3D is widely used in:
print advertising;
outdoor advertising (light boxes, signs, billboards, standers, pylons, advertising on transport, etc.);
POS-materials (wobblers, denglerd, posters, shelf talkers, etc.).
Stereo-vario advertising
A human sees the world in colors and volume. And the desire to reproduce the volume on the plane led to the lenticular print. Images obtained with this technique are usually called stereo or vario, depending on visible effect of volume or movement seen on the image. This technology has been first spread in a souvenir production, and now entered advertising industry. Appreciation of invention merits compared to traditional images was carried out by the Israeli company Human Eyes by the following categories:
degree of visibility (drawing of attention),
perception of novelty,
memorability,
and universal approval.
People were shown traditional and vario or stereo advertising of such products as beer, cell phones, CD discs, notepads and notebooks. Over 75 % of respondents preferred products with volume and animated advertising images. Memorability of stereo and vario advertising was 4.5 times higher than traditional advertising media.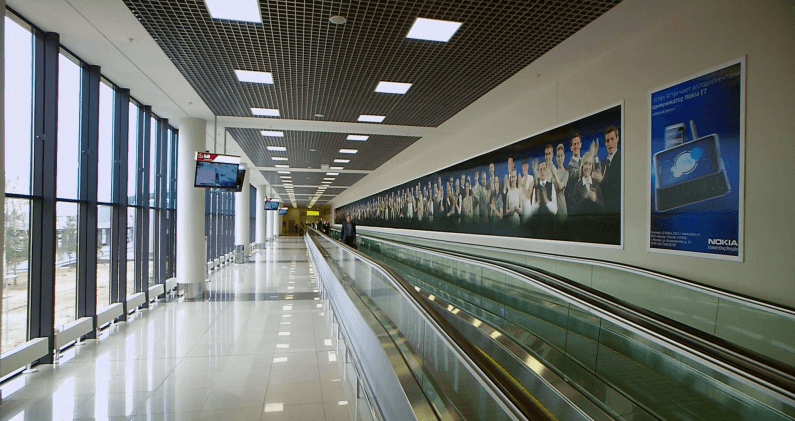 Stereovario Nokia advertising in Sheremetyevo, Moscow
Effectiveness of advertising with stereo or vario images can be compared to regional TV. However, the costs of a five-second TV reel are much higher.
Of course, all traditional advertising cannot be replaced by expensive 3D advertising. Now it takes 10-15% of the total amount of outdoor advertising, it can harmoniously add to traditional advertising materials.
Outdoor 3D projection
The most spectacular of all 3D advertising tools is outdoor video projection on buildings, which is usually broadcast in large cities by large brands. But due to high cost it has not yet reached its mainstream popularity, however, it is a very efficient method. Companies that have already used 3D projection as an advertising tool will reap their rewards for a rather long time.
Video reels for outdoor 3D projections are created individually for each building, where they will be broadcasted. Such 3D media can be viewed without special stereo 3D glasses. Usually such broadcasts are announced in advance, and a lot of people gather in front of buildings to enjoy the show. As a rule, outdoor 3D projections performances are among top viewed videos on websites like Youtube and social networks.
Conclusions
3D technologies are increasingly used in advertising and marketing industry due to high efficiency and impact on buyers. For this reason the opportunities and prospects of 3D advertising should be reconsidered by advertisers for the benefit of 3D media.
3D-Ace Studio has been successfully engaged in creating 3d models for advertising and marketing sector for more than 4 years. High quality and photorealistic 3d models produced by our artists will be an excellent finding for any advertising campaign.