Working with a graphic design agency (or 2D/3D modeling and animation company) instead of a freelance artist can offer lots of advantages. However, this is not a one-way street, and there are always lots of important aspects to be taken into consideration.
There is not the only correct answer to the question as every artist and graphic design agency is unique and has its own work style which can fit different business needs.
To make the most of your project, you should first of all have clearly specified requirements for your project, study the market of graphic design companies and freelance artists and choose the most reliable one that will exactly meet your project requirements.
And here is the outline of advantages and disadvantages of hiring a freelance artist and outsourcing projects to graphic design agency.
Most Obvious Benefits
Working with a company you get guarantees and high quality outcome
Working with a freelance artists you save money
Both points can be controverted, however these are the first and most obvious statements that cross our minds when thinking of hiring a freelance artist and a company.
No matter what option you choose you should learn all pros and cons to know exactly what to expect from the deal. Everyone wants to know exactly what he is paying for and what he will get for it.
Check out the most important pros and cons that can help you make the right decision and influence the final outcome of a project.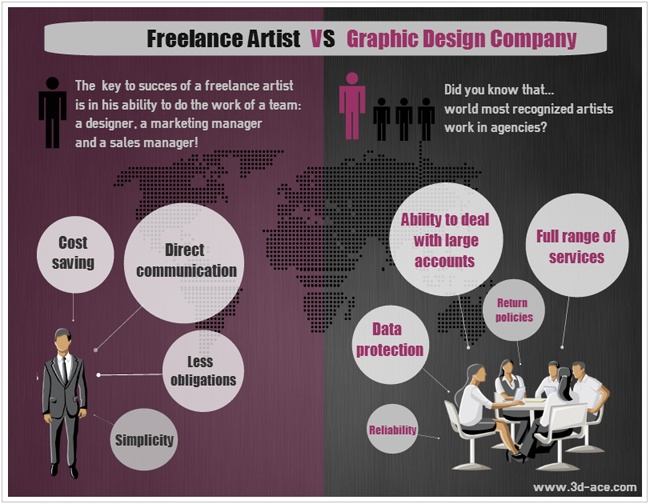 When to Hire a Freelancer, When to Work With a Company
Sometimes it can be quite hard to decide whether you'd better work with an individual designer or a company. But in some cases it is quite clear what contractor to address.
Large or middle companies do not undertake small projects. So, if you have some minor task to do, you'd better contact a freelance artist.

If you do not want your project to become public you'd better address a company. As a rule companies sign NDA to protect data, ideas, and concepts. So you can be sure that no one will see your project until you allow it.

In case your project has a strict deadline, it is recommended to deal with a company, as freelancers often break deadlines. Moreover, companies sign a contract and therefor provide guarantees to deliver project on time and on budget.
Making a Decision
The main goal of this article is to analyze both options and help you make the right decision. We think both alternatives are good for certain project types and it is quite important to weigh all pros and contras before hiring a contractor.
3D-Ace is a reliable and time-proven graphic design company, offering full range of 2D/3D design services.
We offer all benefits of cooperation with a company, not a freelancer, including:
Total data protection (we sign Non-disclosure and IP Protection agreements).
Strong project management (no broken deadlines).
Custom 2D/3D services (only unique, custom-made graphic content).
Full range of services (2D art, 3D modeling, animation and visual effects).
Huge pool of designers (40+ specialists ready to undertake middle and large-scale projects).
Testimonials from trusted and recognized companies (we created 3D assets for GSN Games, Wargaming, Hopster, Digimation, Miivies, Kuju Entertainment, Namco, ValuSoft Cosmi, Kalypso Media and other world brands).
Go to our Portfolio to learn more about our technical expertise and creative approach we offer to our clients. If you have a project, contact us to ask your questions and get quick estimate for your project.