At all times architects needed to have good imagination and skills for architectural drawing to create spectacular architectural ensembles. Advanced technologies have eased a task for architects and gave a unique opportunity to use 3D modeling software for creating 3D models of architectural projects. Now the ideas and thoughts are much easier to express with help of 3D visualization tools.
However, 3D modeling does not come down only to development of 3D model and its details; it's a three-dimensional miniature of a building, a scaled down copy of it.
Visualization has long been one of the main issues in real estate development, as well as in architecture and other aspects of housing construction. It opens up broad opportunities and allows the imagination to easily translate the most daring ideas into reality.
3D erases the boundaries between reality and fantasy
Two-dimensional models have filed as a history long ago. They have been replaced by 3D graphics, which now allow creating beautiful landscapes, splendid architectural ensembles, conceptual interiors and fascinating animation on the screen. Today we unfold a rich three-dimensional world, erasing the boundaries between reality and fantasy. It is possible to recreate any object that does not even exist in reality, but make it so realistic that the audience will believe in its existence.
With volumetric 3D visualization of large architectural projects, architects and real estate sales can much easier sell their ideas by depicting the building layout in minute details – up to a location of trees and sidewalks.
3D in architecture is used for visualization of projects including residential buildings, hotels, industrial buildings, offices or shopping centers, etc. Computer graphics cannot give a broad picture of a building-to-be, that's why 3D modeling comes to the fore when working on such huge projects.
When presenting a project in 3D one can more likely attract investors to the project.
3D modeling studios and artists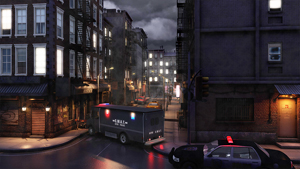 Within short period of time 3D visualization has become rather popular in the medium segment of real estate development too. Even developers of private real estate facilities got interested in possibilities provided by 3D technologies, because three-dimensional renderings help customers take better and faster decisions in such issues like, for example, the purchase of a floor plan. Thus, 3D modeling experts are now much-in-demand.
Today there is a stiff competition between 3D modeling studios, and customers should make their choice adhering to certain criteria: reliability – quality – speed – price.
Who needs the services of 3D studios?
Architects. They need 3D visualization to express their ideas and for further approval of a project by the customer (if they do not possess 3D modeling skills themselves).

Land owners, who plan building construction. This category of customers needs visualization of their building plans in order to determine the optimal location of the object on the territory. In addition, often the terrain can be rather challenging, in this case 3D modeling will help to avoid mistakes in the planning stage of a project.

Real estate brokers. If the building is still under construction or the construction has just begun, it is difficult to find clients who would buy the property. Attractive and detailed 3D model of a building can persuade the buyer to make positive decision.

Business looking for sponsor to invest in the construction activities. It is not impossible to tell in words about the attractiveness of investments of a particular project. 3D visualization of the project, supported by technical drawings and mathematical calculations, is more likely to invite investments.
3D presentation in architecture
Most real estate development companies and agencies have long ago understood the benefits of using 3D technologies for promotion.
First of all, interactive 3D presentation of an architectural project is an important advertising tool.

Secondly, it gives the ability to visualize both interior and exterior of a building.

Thirdly, interactive 3D presentation or 3D walkthrough provides an opportunity to examine and explore all the interior spaces, to examine a floor plan of a future house, open and close the doors, switch the light on and off, virtually step out on a balcony to see the expected view, etc. And roughly estimate where and how to arrange furniture and appliances.

Finally, with interactive 3D flythrough one can explore the premises from different angles to get a complete idea of a building.
Broad opportunities offered by 3D modeling software
Advanced technologies for creation of three-dimensional models are cross functional. They give the opportunity to create both small objects and huge, extensive projects with unique features.
With help of 3D visualization tools 3D artists can create business-winning 3D images of architectural object from scratch. 3D modeling software together with comprehensive knowledge and experience in the field allow to produce a unique and unmatching 3D content strictly corresponding to customer's requirements.
Even the most complex calculations, technical features and other unique aspects of a building become accessible and understandable even to a non-professional with 3d models, which demonstrate all the features and capabilities of the object.
Where to use
3D visualization in architecture is used to perform the following tasks:
creation of 3D models of both individual and commercial buildings;

development of supporting architectural elements (roads, benches, trees, and other elements of the surrounding environment);

creation of exterior and interior spaces of various size;

creation of landscape projects.
3D visualization allows to see any architectural object with the smallest details and nuances from any angle. With help of architectural 3D visualization one can easily look at the object and evaluate it in more detail.
3D visualization is a true art, because its essence lies in the creation of architectural models of construction projects, their detailed working out of details and careful texturing.
Choose time-proven services
All models of architectural facilities created by 3D-Ace team look as close to the reality as possible. Our 3D artists do a meticulous job by working out even the smallest details of the project. We pay great attention to the choice of textures, lighting sources, decorative elements, which create an integral picture of a building and are a key to success of a project.
3D-Ace Studio provides broad options for architects and real estate developers by offering full range of 3D modeling and animation for presentations, advertising reels and interactive applications.
Contact us to learn more about 3D modeling services provided by our team.